Loose Absorbents & Drum Tops


Spill Fix Universal Absorbent
Natural Zeolite Floor Sweep Absorbent rapidly absorbs hydrocarbons and water based liquids on contact. The excellent absorbency capacity and bulk density makes it particularly suitable for outdoors use. Its zeolitic properties mean it can be used for vapour absorption, particularly for reducing ammonia emission.
HYDOCARBON SPILLS
Oil and petroleum spills are potentially an environmental problem due to their ability to leach into soils and waterways. Responsible industry should demonstrate effective spill management using absorbents that are efficient and do not leach once placed into landfill. SI - SpillFix Natural Zeolite Floor Sweep Absorbent is tested to USEPA standards for free liquid and leachate for hydrocarbons (C10 - C36) and can be used for a wide range of liquid spills.
Features
Highly absorbent
Granular mineral can be spread easily
Versatile—provides safe & effective spill management
Fast acting—absorbs on contact
Meets international leachate standards for hydrocarbons (C10 - C36)
Minimises risk of environmental spill leaching
All natural inert mineral.
Contains no chemical additives
High Cation Exchange Capacity (CEC) allows vapour and odour absorbency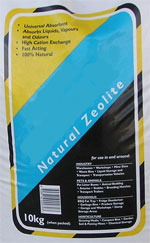 Spill-Sponge Bio-Active 10Kg (Remedial Bacteria added)
Spill Sponge is now inoculated with micro-organisms approved by AQIS (Australian Quarantine and Inspection Service) under permit to import quarantine material. Spill Sponge Bio-Organic Floor Sweep is our premium absorbent product combining the best features of our other absorbents. Made from a combinations of cellulose fibres like cotton, ground nut, stock feeds and fibrous flour, this absorbent has a very fast wicking action, meaning it absorbs oil and fuels spills rapidly leaving little residue behind.
25 Pkt Absorbent Drum-Top Fits 205 Ltr Drum (Pre-cut openings)
Our absorbent drum pad toppers keep drums and barrels clean and protect surrounding areas.